SPECIAL PROTECTION GROUP (SPG)
Aug. 26, 2019
According to several sources, the Government of India is likely to withdraw the SPG from former PM Manmohan Singh's security. If this happens, then SPG would be tasked with protecting only PM Modi, Congress president Sonia Gandhi and her children Rahul Gandhi and Priyanka Gandhi Vadra.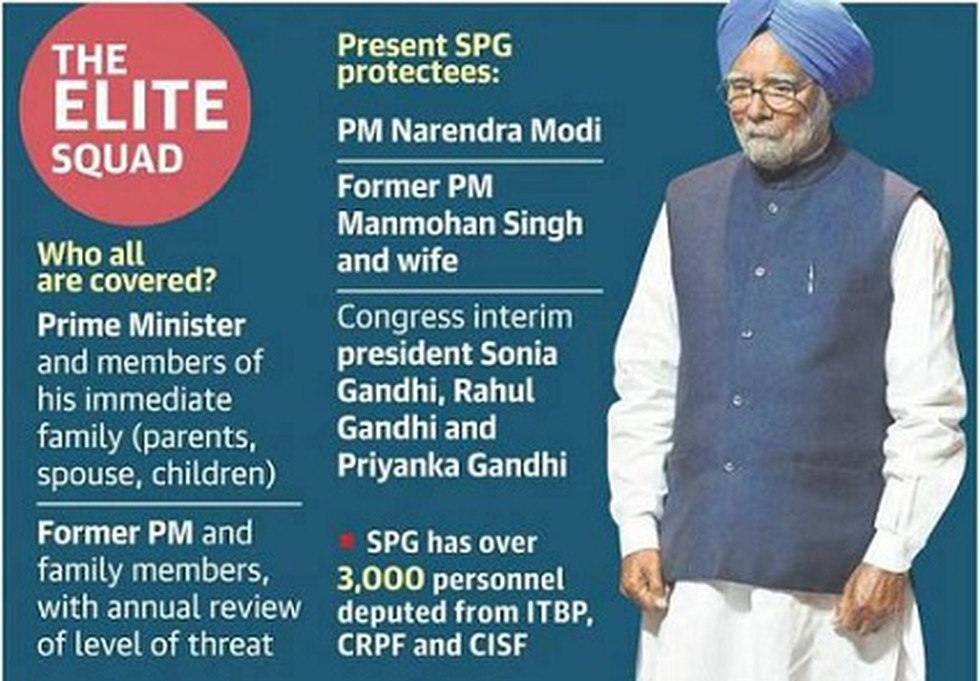 About: 
What is it? It is an armed force of the Union for providing proximate security to the following

Prime Minister (PM) of India,


Former PM of India and


Members of their immediate families wherever they are.






Type:

It was formed in 1985 after the assassination of Prime Minister Indira Gandhi as an executive body on the recommendation of Birbal Nath committee.


Later on it became a statutory body under Special Protection Group Act, 1988.






Governance:

It is governed by Cabinet secretariat of India.


SPG chief is an officer of the rank of inspector-general.






Tenure of security cover to former PM:

SPG Security is provided to former PM and the members of his immediate family for a period of one year from the date on which the former PM ceased to hold office and beyond one year based on the level of threat as decided by the Central Government.


However, the security to them can be extended in case the threat is of grave and continuing nature.